The "Management Guidelines for Ireland's Native Woodlands" is a full colour publication which is a joint initiative between the Department of Culture, Heritage & the Gaeltacht and the Department of Agriculture, Food & the Marine, the book provides owners and practitioners with key information on establishing and managing native woodlands as a living part of our countryside, to realise their full potential. It is co-authored by Dr John Cross and Kevin Collins, individuals with wide expertise in the area. Written for woodland owners, relevant practitioners such as foresters, ecologists and woodland contractors, and also the general public, this book explores appropriate ways to expand and to manage our native woodlands. The publication is richly illustrated with colour photographs, and organised into concise chapters exploring topics such as grazing, natural regeneration, invasive species, deadwood and afforestation. Guidance is also given for specific native woodland habitats found in Ireland, such as oak woodland, birch woodland, yew woodland and alluvia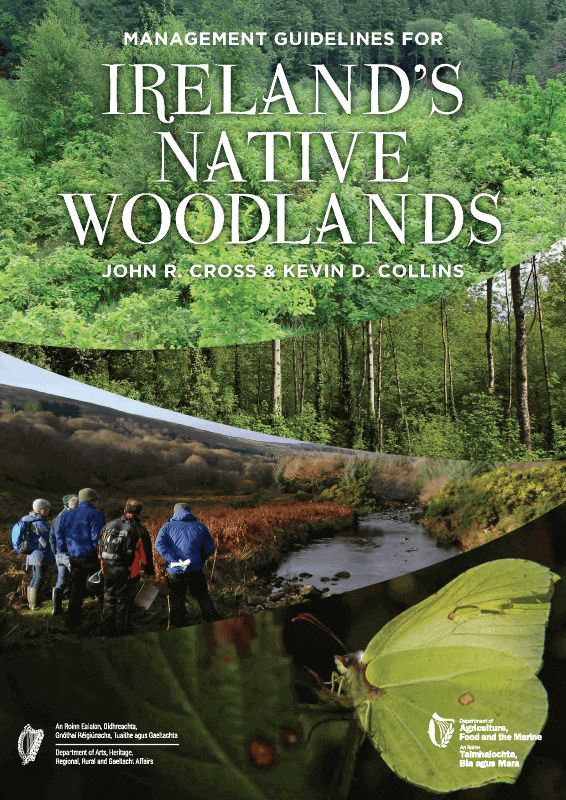 l woodland. The book is a celebration of the variety and the value of our native woodlands.
The publication is also available in hard copy upon request. Send us an email at info@woodlandsofireland.com (Postage and packaging costs will be covered by the recipient)
Publication Details:
Management Guidelines for Ireland's Native Woodlands John Cross & Kevin Collins
Publication Date: July 2017, reprinted December 2020.
ISBN: 978-1-902696-78-2
Published by:
National Parks & Wildlife Service, Department of Arts, Heritage, Regional, Rural & Gaeltacht Affairs, 7 Ely Place, Dublin 2 and Forest Service, Department of Agriculture, Food & the Marine, Kildare Street, Dublin 2.