Gaelic language (teanga na Gaeilge) place names and associated literature: their intrinsic value in contributing to  understanding the essential nature of land conserved or managed as woodland in the past present and future.
This section of the website is for the ongoing accumulation and presentation of information regarding how recognising the meaning of Gaelic words and phrases in placenames can contribute to better land use planning, particularly in relation to tree cover.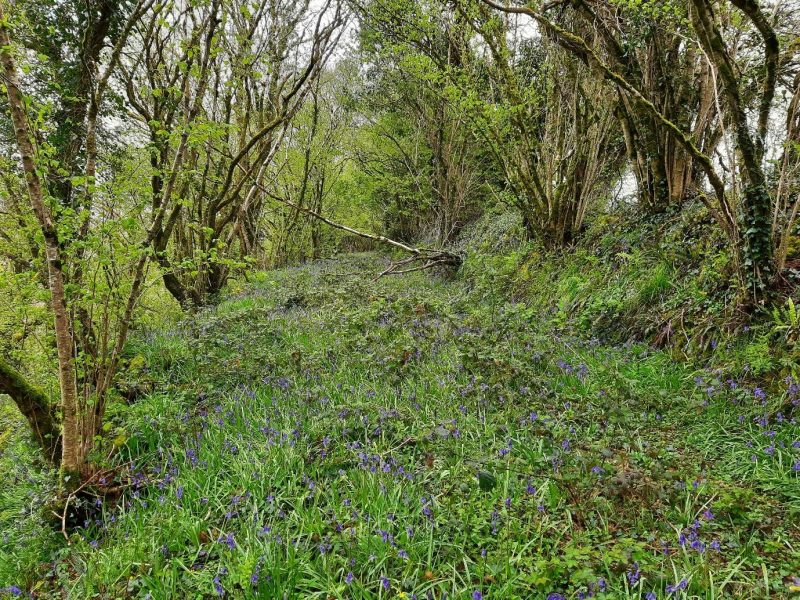 Introduction
The ancient Irish native language, Gaelic is embedded, generally in an anglicised form, in the vast majority of place names that will be encountered by those in the field of woodland and hedgerow research, on the island of Ireland. These names were fixed, for the most part, by the recording processes undertaken with the first Ordinance Survey of the early Nineteenth century (Doherty 2004) In this regard, John O' Donovan, chief topographical and Gaelic scholar for the Ordinance Survey (1824-46) remarked in 1854 about recruits for his department:
'No person is fit or should be allowed to meddle with those names, except one acquainted with the whole circle of Irish lore, and with the peculiarities of pronunciation that prevail in the different districts'. (Doherty 2004, p.109).
Today in Ireland key websites to visit regarding Gaelic language place names and their anglicised counterparts are logainm.ie (Placenames Database of Ireland )  and townlands.ie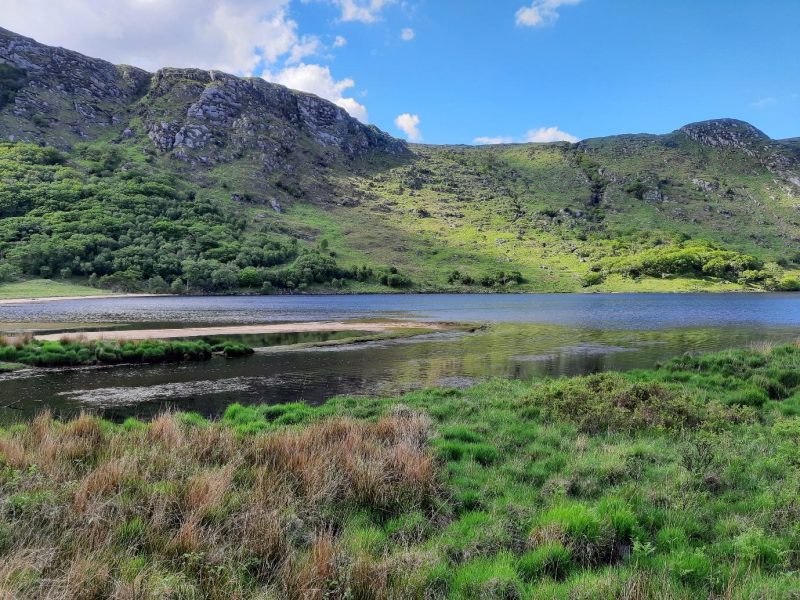 The practical application of the knowledge about Gaelic placenames including woodland names is very well illustrated in a recent publication entitled:
Hill farmers, habitats and time: the potential of historical ecology in upland management and conservation by Eugene Costello 2020
: https://doi.org/10.1080/01426397.2020.1798367
The author  focusses, in part,  on the 'Central part of Iveragh peninsula, showing placenames which indicate former woodland in the MacGillycuddy's Reeks, Glencar and Black Valley' and combines this with evidence from upland charcoal pits to illustrate that there was significantly more native species tree cover in the area up to the late seventeenth century, in comparison to the 'traditional' perspective of uplands always being relatively treeless and not capable of sustaining native woodland.
Further sources of information on Gaelic names of the 'historic land units' (McCann et al 2017) known as townlands (Aalen et al 2003), upon and within which woodland and hedges occur, are outlined in publications from both Ireland and Scotland. A selection of links to these are given below:
Trees and woodland names in Irish placenames by John Mc Loughlin is well worth a look and can be accessed from the Society of Irish Foresters Journal at:
https://journal.societyofirishforesters.ie/index.php/forestry/article/view/10854
Another initiative from the Society of Irish Foresters is Forestry Focus which has a range of cultural heritage information about trees in Ireland. The following link brings you into that section of their site:
https://www.forestryfocus.ie/social-environmental-aspects/cultural-heritage/trees-and-folklore/trees-in-irish-place-names/
Treescapes and their Meaning in Gaelic Cultures is a PhD theme currently underway at Ulster University Doctoral College. More details can be seen here:
https://www.ulster.ac.uk/doctoralcollege/find-a-phd/795115
Manchán Magan explores Lost words of the Irish landscape in his recent book 'Thirty Two Words for Field' (Gill Books 2020)   https://www.manchan.com/32-words-for-field
Enclosure Placenames: Claí, fál, críche, the Gaelic words meaning boundary wall or hedge appear in the names of a number of townlands, for example townlands.ie has a list of 22 place names containing the root word fál.
Enclosure placenames may denote lands that have been in arable or grazing field systems for many hundreds of years or may describe banked boundaries which have protected wooded lands.
These are some examples from logainm.ie; Fál an Chaorthainn, Fál an Chartha, Fál an Ghabhann, Fál an Phóirtéaraigh, Fál an Toirtín, Fál an tSagairt, Fál Aonaosa and also Falleens (Na Fáilíní), Kilcolman Civil Parish, Barony of Coolavin, Co. Sligo. In addition there is airbhe meaning fence /wall /field / enclosure among dozens more that appear in descriptive placenames (McKay 1999) across the island.
The beginning of a compendium of sources of Gaelic Placename Literature:
Please note the selection will be added to in the coming months.                                         
We would be obliged if you can send in additional sources that you feel people should be aware of.
Today in Ireland key websites to visit regarding Gaelic language place names and their anglicised counterparts are logainm.ie (Placenames Database of Ireland ) , townlands.ie and dúchas.ie 
Dr. Kay Muhr of the Association of Young Irish Archaeologists in Insight Magazine gives much detail on Trees in Ireland in early tradition and place-names:
http://homepage.eircom.net/~archaeology/two/trees.htm
Mountaineering Ireland have a substantial document on Irish Landscape Names with an emphasis on mountain and hill peaks:
https://www.mountaineering.ie/_files/2020731145455_60ceee48.pdf
Scots Gaelic language place names and associated literature:
Scots Gaelic is quite similar to Irish Gaelic but not identical.
The following web links give an idea of the extent of Gaelic placename research in Scotland:
A 'Dictionary of Gaelic Nature Words' from NatureScot – Scotland's Nature Agency
https://www.nature.scot/about-naturescot/access-information-and-services/gaelic/dictionary-gaelic-nature-words
'Gaelic Names of the Caledonian Forest' at highlandtitles.com  has an interesting perspective on the naming of woodland clearings.
https://www.highlandtitles.com/blog/gaelic-names-of-the-caledonian-forest/
References:
Aalen, F.H.A.,Whelan, K.,Stout, M. 2003 Atlas of the Irish Rural Landscape Cork University Press, Cork
Doherty, G.M.(2004) The Irish Ordinance Survey History, Culture and Memory. Four Courts Press, Dublin
McCann, T., Cooper, A., Rogers, D., McKenzie, P., & McErlean, T. (2017). How hedge woody species diversity and habitat change is a function of land use history and recent management in a European agricultural landscape. Journal of Environmental Management, 196, 692-701. https://doi.org/10.1016/j.jenvman.2017.03.066
McKay, P.1999. A Dictionary of Ulster Place-Names. Institute of Irish Studies, Queen's University of Belfast.
Additional reading:
Kelly, F. (1997). Early Irish Farming. Dublin, School of Celtic Studies, Early Irish Law Series,
IV.
Nicholls, K. 2001. Woodland cover in pre-modern Ireland. In Duffy, P.J., Edwards, D. & FitzPatrick, E. (eds.): Gaelic Ireland c. 1250–c. 1650. Land, Lordship and Settlement, 207–222. Four Courts Press, Dublin.